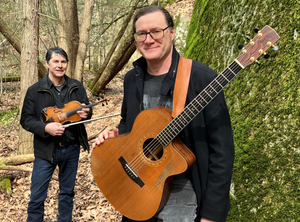 Billy MacInnis, also known as Stompin' Tom's fiddle player has performed from coast to coast.  He has shared the stage with many esteemed Canadian artists such as Lennie Gallant, Rita MacNeil, John Allan Cameron, Tim Huss & Prairie Oyster,
Pat & Billy's partnership began in 2019 when recording Billy's album Strings Attached at Pat's studio.  Live performances ensued until the global shutdown sent them back to the studio to produce Pat's album Come On In My Kitchen released in 2021. 
They are itching to get back to performing live.  There will be fiddle tunes, folk, country and likely some blues. Lots of strings working overtime.